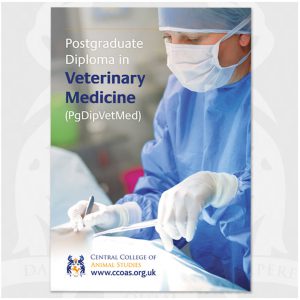 Launched in August 2018 and awarded by Central Qualifications (CQ), the College's Postgraduate Diploma in Veterinary Medicine (PgDipVetMed) is designed to facilitate graduates' transition from veterinary student to qualified veterinary surgeon working in clinical practice.
Graduates enrolled on the Diploma will work in specifically selected approved veterinary practices, under supervision, in order to develop their clinical skills in a supportive working environment. Whilst graduates will usually commence working within a small animal environment, they can choose to develop their clinical skills and confidence in equine and farm animal practice, or a mixture.
During the course, graduates are required to complete a clinical skills log which requires reflection and critical evaluation of their clinical skills. The Postgraduate Diploma mirrors the requirements of the Professional Development Phase (PDP), as required by the RCVS.
Graduates must have a Veterinary degree and be a member of the Royal College of Veterinary Surgeons (MRCVS) to enroll onto the Postgraduate Diploma.
Individual veterinary practices and groups looking to support the professional development of their own graduates with a structured programme leading to a recognised qualification should email us at enquiries@ccoas.org.uk.