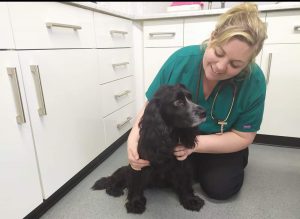 Why I became a Veterinary Nurse?- I first became inspired to become a veterinary nurse when I was 11, my Aunt was a veterinary nurse at the time and she would bring home stray animals and particularly wildlife that needed care. She let me help with caring for them, I helped with hand rearing wild rabbits, squirrels, a badger, piglets and lambs from the farm. I wanted to make a difference and give the best care to animals making them feel comfortable and in a safe environment as it's daunting for pets to be away from their familiar owners. I started my training in 2009 and qualified and registered as an RVN in 2013.
What areas I enjoy in Veterinary Nursing? - I've always favoured medical nursing, making patients feel comfortable in the hospital environment. I started training as a Rehabilitation Therapist in 2013 after qualifying and achieved my Diploma in Veterinary Nursing Rahabilitation Therapy in 2017. This involved learning modules of the Level 2 qualification in rehabilitation such as critical care nursing, physiotherapy, neurology, orthopaedics, anatomy and physiology, rehabilitation exercise techniques followed by a written essays per module, a written exam and practical physiotherapy assessment exam on a live patient. Following this I decided to go on to achieve the Level 3 qualification which involved electrotherapy techniques used in rehabilitation followed by a written essay case study. I also have a keen interest in small mammals particularly rabbit health and welfare.
Working in practice experience? - I have worked in first opinion practices and hospital and large animal practice. In my time my greatest achievements have been setting up a study on the effects of premedication analgesia for neuterings, which we found methadone had a better effect of analgesia particularly on Bitch Spays. My previous practice I set up and ran arthritis clinics using my rehabilitation therapy skills to train owners to make their pets more comfortable at home, giving them exercises and massage techniques to help prolong life.
Why I became a Tutor? - I have always had a keen interest in the education of Veterinary Nurses in practice, having undergone training myself I know how stressful it can be to complete a course alongside a busy work and life schedule. I begain my training for my Level 5 Diploma in Education and Training, aswell as TAQA in 2015 at Hadlow College in Tonbridge as a Lecturer in Veterinary Nursing and Animal Management. My main reason for beginning teaching was that I wanted to pass on my skills and knowledge to others, particularly with rehabilitation. Theres much to learn about and so many ways we can make our inpatients more comfortable and prevent deterioration for those that are in hospital long-term, with the use of physiotherapy.
What I like about CCOAS? - CCOAS is a rewarding place to work, seeing the students thrive and meet their targets. I'm lucky enough to teach the final year students so at the end of each year it's great to see them accomplish their goals and become RVNs after all their hard work.
Hobbies- I have 2 indoor rabbits called Luna and Bear, a ragdoll cat called Mouse with Hypertrophic Cardiomyopathy [HCM] whom I rescued from euthanasia and hand reared from 2 weeks of age and a horse called Storm who I used to compete at dressage, he is now retired at the age of 29! I have a 3 year old son called Oscar and enjoy spending time with my Husband and Oscar going on countryside walks and visiting local attractions in our spare time. I also have a colony of hedgehogs in our garden that visit and I feed them and keep tabs on using our wildlife camera! In the last year I have set up a charity to get our local playpark revamped, so far we have raised £3,500 running events and fundraisers.